Jurassic World: Dominion Dominates Fandom Wikis - The Loop
Play Sound
Mines are areas where you are able to mine ores, kill custom mobs or even fight custom bosses, you can visit them by doing /mines in game chat. There are custom mobs in each of the mines
Mythical Mines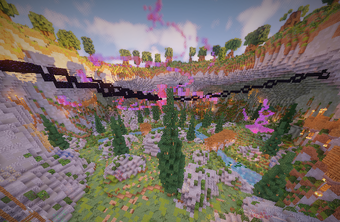 The Mythical Mine is the mine that is accessible to all players, it is the easiest of the three and is home to the shadow king boss, there are also some custom mobs in the mine. The Shadow King gives blindness 2 potion effect every hit and has a chance to knock you into the sky or give you Nausea 2 or Slowness 5. It can also teleport behind you every so often
The custom mobs in this mine are:
•Drowned - These give you Weakness 3, Poison 3, Hunger 4 and Slowness 2 potion effects when hitting you.
•Guardians - Will gradually damage you over time.
•Imps - Attack you with a blaze rod and has a chance of setting you on fire.

Primal Mines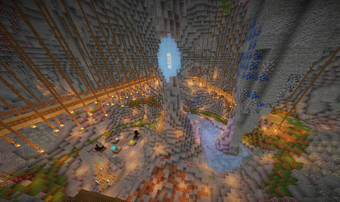 You can gain access to the primal mines by purchasing Wanderer rank or above in our store or purchasing an access voucher in /mobcoins. These mines are home to the Primal Baron boss. The primal baron uses a diamond axe and has a chance to poison you each hit.
The custom mobs in this mine are:
•Feral Wolf - These attack you in packs and can give slowness 2 effect
•Skeletons - Shoot arrows at you
•Husks - Husks give you weakness 3,poison 3,hunger 4 and slowness 2 upon hitting you
•Angry Miners - These have a chance of giving you slowness 5 and nausea 2 when they hit you

Cave Mines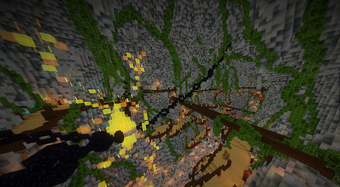 You can gain access to the cave mines by purchasing Explorer rank or above in our store or purchasing an access voucher in /mobcoins. In the cave mine the quality of the ores gets better the higher up you go, for example towards the bottom of the mine you will find redstone and coal etc, and near the top you will find emeralds and These mines are home to the Elemental Terror boss. The elemental terror splits into four seperate mobs every so often the real one will have its name above its head, and each one is a different colur and element. The different elemental colours are:
•Red Elemental- Has a chance to set you on fire
•Blue Elemental - Provides 2 hunger effect when hit
•Black - Provides wither 2 effect when hit
•Green - Provides poison 2 effect when hit

The custom mobs in this mine are:
•Mimics - These disguise as ores, most commonly coal ore and jump out when a player passes, they give hunger when they hit you
•Stealth Spiders - These are usually invisible, you can only see their eyes. They give poison 3 effect whenever they hit you
•Wither Skeletons - These wield a stone sword and give wither 3 effect whenever they hit you
•Skeletons - These just shoot you with a bow